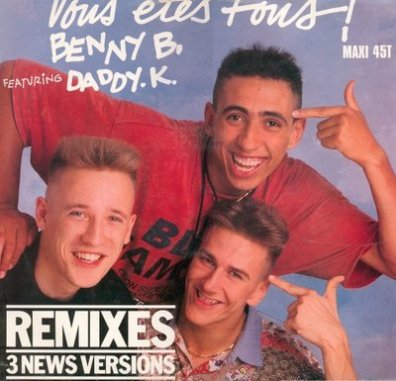 In 1990, Belgian Abdel Hamid Gharbaoui, better known as
BENNY B
released
VOUS ETES FOU!
, which would become the first hip hop hit single in French. Very quickly, more "serious" rappers will follow and they will all, without a single exception, dismiss him as a big joke, like, say, Vanilla Ice. Sure, he was not "street" enough, appeared in many family-oriented TV shows, didn't have a "message", and so on.
However, with 20 years insight, after the first wave of French hip hop has been followed by many acts that were also messageless jokes, we can reassess this song with more indulgence.
I would even go further than that: while the "serious" rappers of the time were all essentially apeing Public Enemy,
BENNY B
was the only one showing his true colors and repping the sound of young Belgium, since he was basically rapping over
NEW BEAT
jams.
You be the judge:
Because I enjoy this track so much, I had a little fun and made my own version, using the best bits of the "Wild Mix" and the Acapella, both on the B-side of the 12".
Enjoy
VOUS ETES FOUS! (Whistled & Tasted)
.